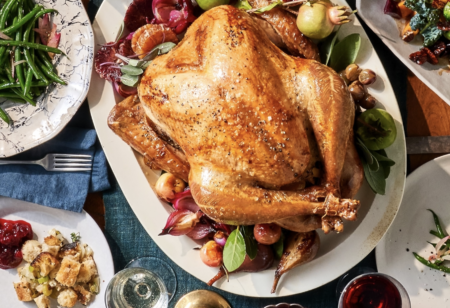 Tuesday, December 05 2023
It was a Thanksgiving with all the trimmings. Turkey. Football—A Lions loss…another tradition—not to mention a few flakes falling outside. Best of all, we had a house full of family, laughing, joking, sharing stories and more. It's easy to see why Thanksgiving is one of my favorite times of the year.
Somewhere, in between the second helping of stuffing and the fifth showing of "A Christmas Story", I found the time to reflect on what's most important this time of year…giving thanks. Here's what I'm most grateful for…
Family – This is the big one. My family is my life, my purpose, my all. They're also the most wonderful people I know. I'm truly grateful for them, even on their worst days, which is pretty rare.
Good Health – With each passing year, I seem to be adding more creaks and groans to my repertoire. But thankfully, I can still chase the grand kids around and find enough energy for many of the household choirs. That's one in the win column.
Work – The old saying goes, if you love your job, you'll never work a day in your life. More often than not, that applies to me and my situation. I'm fortunate to work with an amazing team. They're hard-working folks who are easy to get along with. They're very skilled too. In short, they're my second family. Now if I could just control the economy, weather, and the ever changing RV industry…
Life & Faith – These two go hand-in-hand. While I take my faith seriously, I try not to take life too seriously. A good sense of humor goes a long way to making any situation at least bearable. I'm fortunate in these respects.
I hope you found plenty to be thankful for this season.
Happy Camping,
Bob