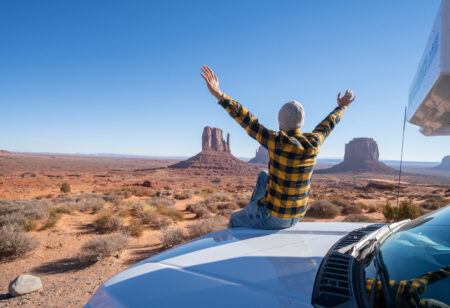 Tuesday, August 29 2023
I came to the RV lifestyle quite naturally (pun intended)…I was born into it. I inherited the travel bug from my parents. Of course, it's no coincidence that my family has owned a business in the RV industry for over 60 years. Not to mention, we live in one of the Midwest's most popular camping destinations.
So how have so many folks come to love the RV life, with no initial connection to it? In a word: Renting.
According to one industry resource, RV rentals are up 48 percent since 2021. They're up 150 percent since 2020. And it's easy to see why. There are several great reasons to rent an RV before committing to ownership. Here are just a few:
Try before you buy – It's a no-brainer. Renting lets you experience the joy of RV-ing—along with the planning and work that goes with it—before you make that Class A commitment. A few, long-weekend getaways in a rented rig will go a long way in helping you make a well-informed purchase decision.
Learn what you want – If you haven't spent much time in an RV, renting one will help you discover what you want in one. For example, if you love to cook on the road, you may want a larger, more fully equipped kitchen. If you're going to spend more time inside the rig and less time outdoors, you should probably opt for a more sizeable living room. You get the idea.
Get familiar with how it works – Driving, parking and hooking up an RV can be intimidating tasks for a novice RV-er. Like anything worthwhile, practice and experience are the answer. Time on the road and in the park will help you become more confident and comfortable. Hopefully.
What kind of RV is right for you? – There are many different sizes and styles of RV; each tailored for certain lifestyles. Are you retired and planning lengthy trips on the road with your significant other? Do you have a young family that will be enjoying weekend adventures closer to home? Consider how you'll be using your RV and decide accordingly.
Park it or store it? – Most RV's are big…much bigger than the average driveway or garage will accommodate. Renting an RV will quickly reveal if you can park it at home or may need to consider professional RV storage.
If you're considering buying an RV, do your homework—especially your "away-from-home" homework—and rent first. You'll be glad you did. And so will your checkbook.
Happy Camping,
Bob