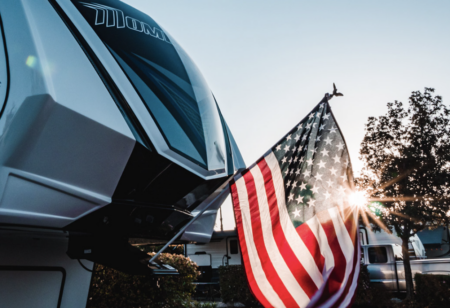 Thursday, June 01 2023
Memorial Day weekend. The official, "unofficial" start of summer. I feel like a kid just before Christmas. I've been watching the calendar for weeks—okay, months—in breathless anticipation for that glorious Fri-yay! that begins the long weekend.
We booked our favorite spot many months ago (hint, hint). Our destination is an easy drive from our home base—yes, we're lucky enough to live where campgrounds are plentiful and beautiful. We'll be getting an early start on Friday at o'dark thirty. We can't beat the crowds completely, but getting a head start reduces headache and hassle.
The rig will be packed with all our essentials, starting with all the necessary nourishment. Four, humongous tomahawk steaks will find their way into the cooler. Each procured, and neatly trimmed, by our favorite local butcher (Thanks, Mark!) They'll be grilled to perfection on Stromberg's Stake & Grill; a handy item that turns any campfire into an easily adjustable grill. A few burgers and dogs will likely make an appearance, but the steaks are the feature attraction.
Since our campground is just steps from the lake, we'll definitely enjoy time on the water. The bass and perch are plentiful and very responsive to live bait fished from shore. After watching the sun fade behind the trees, we'll fire up the, well, fire. We'll toast the starry sky with raised glass as we listen to the nightly chorus of insects. In the morning, a bracing dip in the chilly water will wash away any cobwebs from the night before.
Like every vacation, time will fly by way too fast. But the shared stories and laughter will linger long after the campfire embers have died. Like any good RVer, we'll be planning (and dreaming about) our next adventure in no time. Isn't life great?!
Happy Camping,
Bob