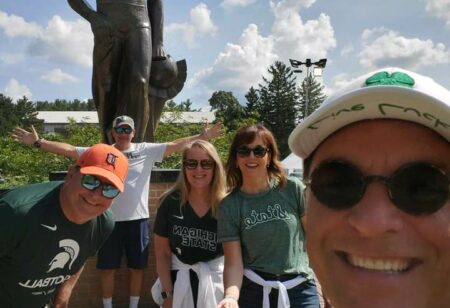 Tuesday, September 27 2022
I grew up in a football family that also owned an RV business. This meant fall weekends were often spent surrounded by other diehard fans and RVers, cooking brats, cracking jokes and making predictions about the upcoming game. Tailgating was a weekend tradition.
Even today, the cool fall air and heated team rivalries get me fired up for some pre-game excitement. I never was much for face painting and donning all the logo wear, but I still had plenty of team spirit and could scream and cheer with the best of 'em. The Michigan State Spartans are my team. I still remember weekends outside Spartan Stadium, the crisp fall air, the red and yellow leaves waving like banners in the breeze. And frenzied friends having far too much fun. The memories have never left me.
Today, weekends tend to be more tame. Yard/house work and everyday errands tend to take up my time. I still follow the Spartans. But it's been more years than I care to count since I tailgated in East Lansing. My RV adventures now are usually reserved for family get-togethers, enjoying the kind of peace and quiet that only nature can provide. This suits me just fine. Although, it wouldn't take much persuading to get me to join Spartan Nation for a tailgating trip down Memory Lane. Now if someone would just invite me….
Shameless Plug…a tailgating must!
If you are tailgating this season, give our new Base Pad Shoes a try. They slip on to your jack pad, just like a shoe, to shore up your RV's foundation. You won't tear up the grass or ground where you're tailgating…the property owner will be really happy! What's more, no more storing pads with dirt and mud caked on them. Lastly, they're quality made with molded rubber, instead of crumb rubber that's just glued together. Our Base Pad Shoes will last long after the season is over.
If you're heading out this weekend to cheer your team on, enjoy!
Go Sparty!
Bob