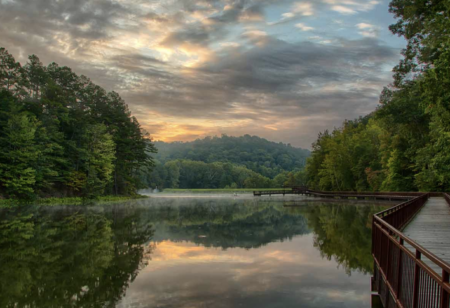 Wednesday, August 31 2022
As a kid, I always had mixed feelings about this time of year. On one hand, I looked forward to seeing all my buddies again at school. The newness of the new school year always thrilled me. On the other hand, I would miss the pure freedom of summer. The long, sunny days filled with excitement and very little expectation from the adults. My time was mostly my own.
Today, things are different. When September is staring me down, I look outside. To the open road…and I'm ready to go. The heat of summer is starting to cool. The crazy traffic is slowing down. And the parks, near and far, have more spaces for me and mine to stretch out in the great wide open.
For me, you just can't beat that last trip before September and fall is in full swing. Here are some spots that are close enough to be convenient (for me, anyway) yet far enough away to feed my "adventure bug".
• Porcupine Mountains (Michigan) – The Porkies are a magical place. Located in the far western part of Michigan's Upper Peninsula, the area is a nature lover's paradise. This quiet corner of the state has it all—cascading waterfalls, towering pines, breathtaking views of big water and miles of scenic hiking trails. Plan a four-day weekend and bring your binoculars and a comfortable pair of hiking shoes. Or if you prefer, a good load of firewood and a great book. Either way, you won't be disappointed.
https://rvshare.com/state-parks/michigan/porcupine-mountains-wilderness-state-park
• Wayne National Forest (Ohio) – Located 50 minutes southeast of Columbus, Wayne National Forest feels much further away than that. Covering almost 250,000 acres, the area is a patchwork of rolling hills, open meadows and accessible forests. The area has 130 fishable ponds and lakes, so pack your rods and tackle box. The woods are laced with miles of trails too, so bring those mountain bikes. The major hubs of Ohio are all within an hour or so driving distance, so big city excitement is always an option too.
https://www.fs.usda.gov/activity/wayne/recreation/camping-cabins/?recid=6203&actid=31
• Sault St. Marie (Ontario) – It's not often I need my passport to go camping, but it's well worth the little extra security check to head north of the border. The Soo offers a number of camping options, so you have your choice. Several places are right on the big water; perfect for long beach strolls or even charter boat fishing. Other campgrounds are tucked into the woods, letting you enjoy some much-earned peace and quiet. Or, if you're feeling lucky, there are a couple parks right near the casino. Make your plans early and enjoy the Soo for all it's worth.
https://campgrounds.rvlife.com/regions/ontario/sault-ste-marie
I hope you find some time to get away before the leaves (or, gulp, the snow) starts to fall. If you do, share your stories with us on Facebook.
Enjoy!
Bob