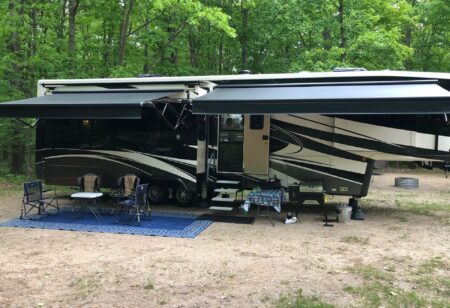 Friday, July 29 2022
I live in the Cherry Capital of the World (Traverse City, MI). Every year, we have the National Cherry Festival (of course). The festival helps balloon our local population from about 15,000 people to 250,000. It's a crazy, busy summer, to say the least.
The festival splits our summer in half. As I'm kicking back, watching the Blue Angels perform their impossible aeronautics, I perform a mental inventory of everything I've done and plan to do over the summer. In order words, I ask myself those big camping questions that will haunt me in February:
How about a Family Reunion?
Does anyone else host their family reunion at an RV park? We sure do. It's the best and most inexpensive addition I never built. Well, okay, I did add a 50 amp plug and a 4" PVC to my septic tank with the reunion in mind, but that's a small investment for one of the best and biggest highlights of the summer.
Did we get above "The Bridge"?
No summer is complete without a trip to "Yooper Land" (The Upper Peninsula, for you out-of-towners.) My blood pressure drops every time I head north across the Mighty Mackinac Bridge. The Keweenaw Peninsula, at the northern tip of the U.P., is a hands-down favorite. The deep forests and big-water views rival Maine's coast. McClain State Park is a great home base for exploring the area's deep history and amazing scenery. Highlights include The Quincy Mine, Copper Harbor and Calumet (almost the capital of Michigan). https://www2.dnr.state.mi.us/parksandtrails/Details.aspx?id=423&type=SPRK
…what about Duluth?
A trip to see my grandson in Duluth, or anywhere in between, usually caps off our travel season. Hey, it's all about family, right? We usually hunker down in Duluth and take daily trips, like hiking Gooseberry Falls State Park and stopping at Betty's Pies in nearby Two Harbors for a slice (or more) of their heavenly fruit and custard pies. https://www.dnr.state.mn.us/state_parks/park.html?id=spk00172#homepage
That's my summer to-do list. If I can't hit all these highlights, it's just another excuse to get out there next year. Whatever is on your summer agenda, I hope it's a safe and happy camping season. Hey, hit us up on Facebook and share your stories…we'd love to hear them!
Enjoy!
Bob