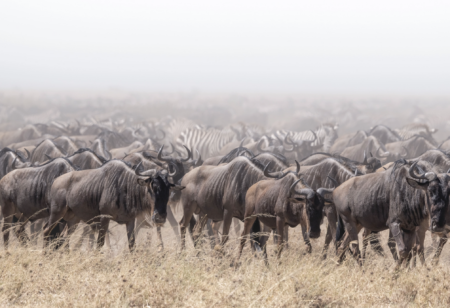 Thursday, March 30 2023
Africa calls it the Great Migration. At the same time every year, over a million wildebeest begin a 1,200-mile trek across the African plains in search of water and greener grazing lands. They say this great journey is spurred on by the change of seasons and incoming weather. We RV-ers can definitely relate.
It's March. The warming weather of spring is calling many of us back north. We've soaked up all the sun the south could offer. It's time to go home.
I'm conflicted about this grand migration. On one hand, it's always great to be home, in a house, in my own bed. Life follows a predictable, but welcome, pattern here. There's yardwork to do. Mail to go through. Family and friends to reconnect with. It's all very satisfying.
But then there are things we'll definitely miss about the sunny south. Reliable golfing weather. Shorts and flip flops. Long, sunrise walks on the beach. And probably most of all, the "fair weather" friends who have shared our months-long escape from the snow and ice.
In the end, we welcome this seasonal sojourn. It's the "circle" of the RV life. So as you're packing your rig and clearing the campground, be glad that you can still make the long journey. You're leaving with memories and traveling in comfort. And, oh yeah, you're not being chased by lions either.
Safe and happy travels,
Bob