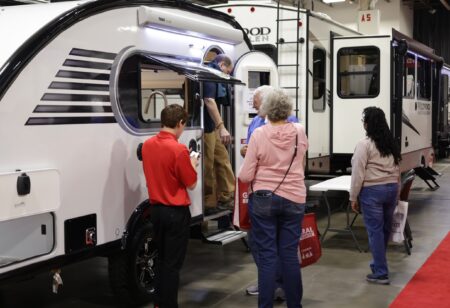 Tuesday, January 31 2023
I'm convinced there are two types of winter RVers. Those who, like Canada geese, make a beeline south as soon as the first frost hits. Then there's the second type…who, in the middle of January, all wish they were the first type.
If you weren't lucky enough to escape to the land of warm sun and cold beverages this year, I have two words of advice: RV Shows. It's no coincidence that RV dealers haul their Class A's into convention centers in the middle of winter. People want an escape from the cold and gray. RV shows provide that. And if you plan your visit just right, they provide a lot more too.
Here are some tips to get the most out of your show experience:
Go with a plan. And a budget. – It's fun to dream big, especially when you're surrounded by the latest in luxury motorhomes. But know what you want and what you can afford. It will make your search more focused and rewarding.
Ask questions. Lots of questions. – The best RV dealers know their stuff and aim to please. Don't be afraid to ask questions about anything related to the purchasing, owning and maintaining of your rig. The only bad question is the one you don't ask.
Bring the fam – If you'll be traveling with more than just the two of you, bring the kids and grandkids along. Make sure the space and amenities match your lifestyle wants and needs.
Take photos – There's a lot to see at a show…so much so, it can be hard to take it all in. So take pictures. Plenty of pictures. Decisions are easier to make later on when you have photos you can reference.
Wear comfortable shoes – You're going to do a lot of walking and stair climbing. Wear shoes that are up to the job.
Relax. Have fun. – If nothing else, an RV show is a great reason to get out of the house on a cold, winter's day. Enjoy your time exploring. Don't feel pushed or pressured. Hey, it's called a "recreation" vehicle for a reason.
If you're headed to a show, tell 'em Bob sent ya.
Best,
Bob