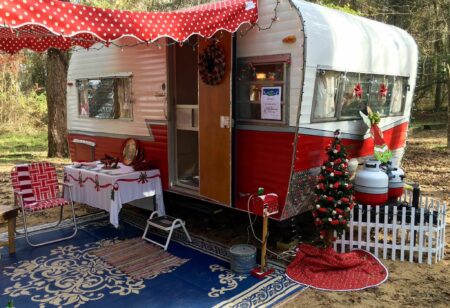 Monday, December 19 2022
Twas the night before Christmas
And all through the park.
Colored lights were a' twinklin'
To brighten the dark.
They hung on the canopy
And round our RV.
It all looked so festive,
As the neighbors could see.
Our kids were up north
While we snowbirded here.
With welcome warm temps
And skies, blue and clear.
We'd finished our round
And stored clubs away.
Had dinner with friends
We'd call it a day.
Momma in her hoody
And me in my jams
Had settled ourselves
For a new Netflix program.
When all of a sudden
We heard a great "wump".
It was not quite a bang
Yet not quite a bump.
I jumped to the window
Pulled up the blinds
And quickly concluded
I'm losing my mind.
For there in site 12
In a shiny Class A
Was Santa himself.
But where was his sleigh?
His 30 foot rig
Was painted in cherry
With trim made of holly
It was certainly merry.
Santa had no red suit
His shirt was Hawaiian
He wore shades that were cool
Without even tryin'
His laugh was still hearty
And his big sack was stuffed
With goodies and gifts
So all got enough.
He left each a present
Without a sound or a jingle
Then boarded his rig
That merry Kris Kringle.
And quicker than lightning
He took to the sky.
Who would have thought,
A Winnebago could fly?
I heard him exclaim
quite loud and quite long
Happy Camping to all!
And stay Stromberg Strong!